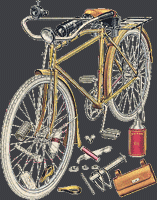 Services
Our shop can handle just about anything your bike will need! Don't see something listed below? Just ask.

For quality repairs, it's Dan who cares.
Comprehensive tune-up
Price: $30-60
Brakes (cable adjust, alignment, wear check, lubricate pivots)
Drivetrain (cable adjust, high and low limits set, wear check, lubricate pivots and chain)
Bearings (adjustment of headset, bottom bracket, front/rear hub, wear check)
Wheels (truing, wear check, inflate tires)
Everything your bike needs to run smoothly and safely
Pick-up / drop-off (within 5mi radius)
Wheelbuilding
Price: $45 per wheel + parts
Custom built wheels based on your choice of hub, spokes and rim
Sometimes that special wheel you're looking for just isn't out there. That's why we're here to custom build it for you. Fixed gear flip flop, internally geared hub, anything you'd like.
Bike assembly (from box)
Price: $40-60
Dan can assemble and tune boxed bikes purchased online
Custom bike build/part installation
Parts installed or entire custom bike built and fine tuned
If you want a bike built from the ground up with quality parts of your choosing, we can do it!